Raila urges social discipline and respect for directives
Former Prime Minister Raila Odinga has urged citizens to remain disciplined and look out for loved ones amid the coronavirus outbreak that has forced government to impose a night-time curfew across the country.
According to the Orange Democratic Movement leader, the time to fight the pandemic was now and it rested on every individual and on all Kenyans. His views were contained in a statement issued on Saturday, April 4.
It read in part: "If we don't take personal control now, there will be no control to take later. You remain in my thoughts and prayers. I am calling on every Kenyan to use his or her existing personal social connections and ask them daily to protect themselves from the coronavirus."
Odinga also underlined the need for citizens to check on one another during these times reiterating his call a week ago that there was the need to respect all regulations put in place by authorities to help defeat the pandemic.
"Do not focus on strangers. Focus on people you have a personal relationship with," Raila stressed the critical role young people had to play with resources at their disposal. He tasked the youth to be Kenya's new soldiers and saviours.
"Use the advantages of technology and social media to encourage your friends to stay safe and to keep them company from a social distance," he added
Letter to my fellow Kenyans.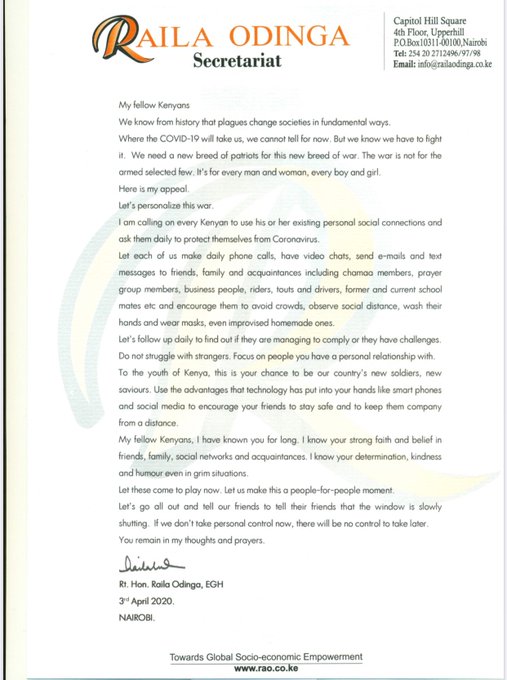 In a report released by technology giant Google, social spots across Kenya have increasingly been abandoned in the wake of social distancing measures put in place to combat the coronavirus pandemic. "This type of data is used to show how crowded certain types of places are," Google explained in a statement.
The report noted that shopping malls, restaurants and recreational spots recorded considerably lower visits between a three week period in March (March 8 – March 29).
Some findings over the period were as follows:
Customer traffic to restaurants, cafes, shopping centres, libraries and movie theatres dropped by 45%.
Traffic to bus and train stations similarly went down by 39%.
Open-air markets, food warehouses, drug stores and pharmacies recorded a 33% drop.
Residential estates marked the only rise in traffic, recording 17% more movement.
Places of work on the other hand recorded a 22% drop.
The report uses anonymised data from users on Google Maps relying on the location data to create an accurate pattern of real-time social movement across the country.
Explaining the reason for releasing the report at this time, the tech giant said: "Google has heard from public health officials that this same type of aggregated, anonymised data could be helpful as they make critical decisions to combat Covid-19."
Source: African News