Turkey has been given a deadline of the end of July to choose between buying US fighter jets and Russian anti-aircraft missile systems.
Acting US Defence Secretary Patrick Shanahan set out the ultimatum in a letter to his Turkish counterpart, Hulusi Akar.
Turkey, he said, could not have both America's F-35 advanced fighter jets and Russia's S-400 systems.
The two Nato allies have been locked in a row over the S-400 for months.
America argues that the Russian systems are both incompatible with Nato defence systems and pose a security threat, and wants Turkey to buy its Patriot anti-aircraft systems instead.
Turkey, which has been pursuing an increasingly independent defence policy, has signed up to buying 100 F-35s, and has invested heavily in the F-35 programme, with Turkish companies producing 937 of the plane's parts.
This issue appears to be a red line for both nations, Turkey and the US.
Speaking at the annual Globsec Security Forum here in Bratislava, Slovakia, Nato's new Supreme Allied Commander Europe, Gen Tod Wolters, said "we are not interested in sharing the capabilities of our F-35 with Russia".
Clearly, the Pentagon believes that if Turkey were to acquire both this state-of-the-art F-35 fighter and Russia's formidable S-400 missile defence system – then Russian technicians would be able to access the plane's vulnerabilities, putting US pilots at additional risk.
US, Turkish and Russian forces already operate in the same region in northern Syria.
But a senior Turkish diplomat – who asked not to be named – told me that Washington had raised no objections while Turkey was negotiating the deal with Russia, only after it was signed.
Now, he said, it was too late for Turkey to back out even if it wanted to.
When Turkey makes a deal, he said, it sticks to it.
What is the S-400 system?
The S-400 "Triumf" is one of the most sophisticated surface-to-air missile systems in the world.
It has a range of 400km (250 miles), and one S-400 integrated system can shoot down up to 80 targets simultaneously.
Russia says it can hit aerial targets ranging from low-flying drones to aircraft flying at various altitudes and long-range missiles.
---
How does the S-400 work?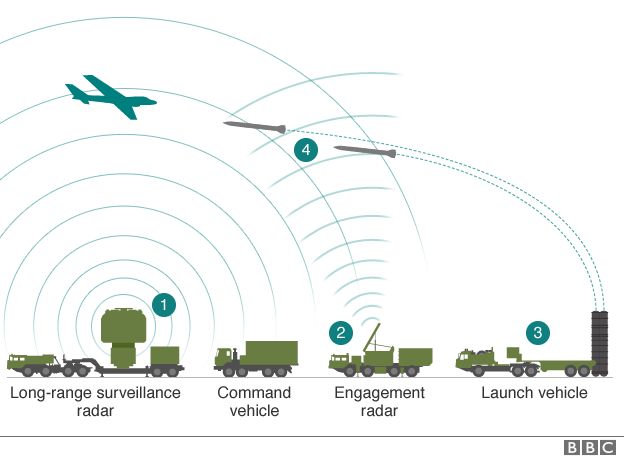 Long-range surveillance radar tracks objects and relays information to command vehicle, which assesses potential targets
Target is identified and command vehicle orders missile launch
Launch data are sent to the best placed launch vehicle and it releases surface-to-air missiles
Engagement radar helps guide missiles towards target